Get your lambs off to a flying start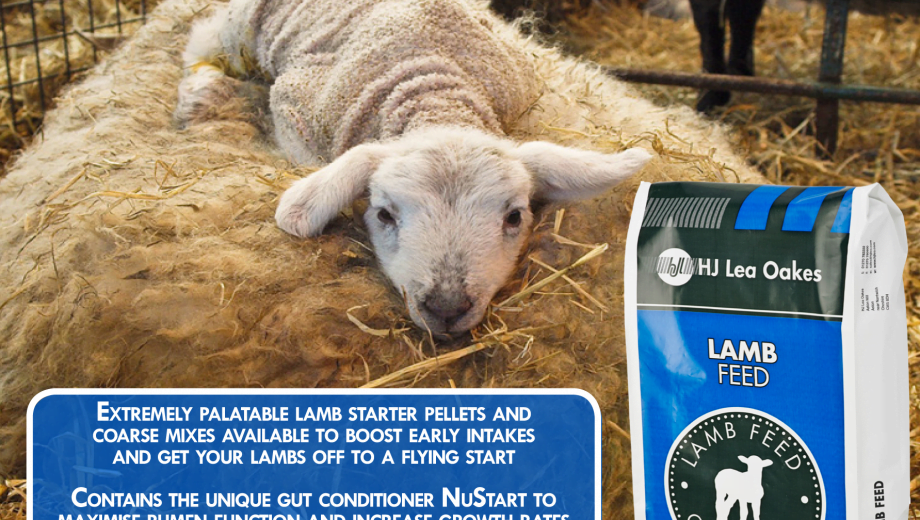 The strong lamb trade seen in 2020 is set to continue in the short term due to limited supply and continued domestic demand. AHDB suggest this demand may reduce, however, large uncertainty still exists due to Brexit and the continuing pandemic. Nevertheless, achieving target growth rates of lambs and minimising losses between lambing and weaning are key contributors to farm efficiency and profitability.
Young lambs are able to achieve greater feed conversion ratios than older lambs, therefore producing a kilogramme of liveweight for less feed input. March born lowland lambs are able to achieve liveweight gains of 250-300 g/day.
HJ Lea Oakes produce two high quality lamb pellets suitable for ad-lib feeding, Supreme Starter Niblets (18% crude protein) and Lamb Starter/Finisher Pellets (17% crude protein). Both products are balanced for energy, fibre and protein using high-quality raw materials such as barley, wheatfeed and Soya. High inclusion levels of molasses and bakery/confectionery feed materials enhance palatability, thereby encouraging intakes.
The Supreme Starter Pellet contains a specialized vitamin premix package for early development, with optimum levels of Vitamin A, D and E; a full range of B vitamins to help liver function; biotin and choline to assist metabolic processes, bone formation and disease resistance. The Lamb Starter/Finisher contains a specialised vitamin package and flavouring to encourage intakes and ensure continued optimal growth and development up to finishing.
Both products are formulated to support healthy growth and development of lambs to achieve target growth rates and maximise outputs.