Bubney Farms – The Forager Magazine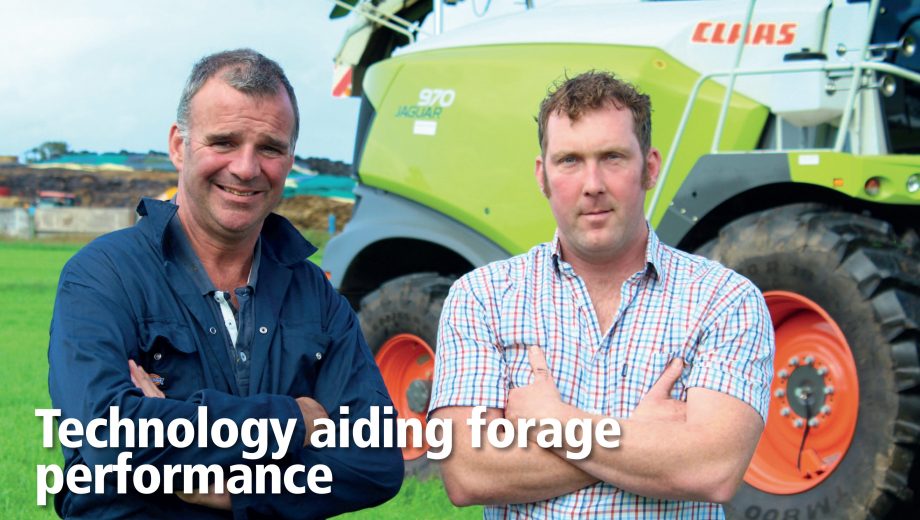 Great to see one of our customers featuring in the summer edition of The Forager – read the article here!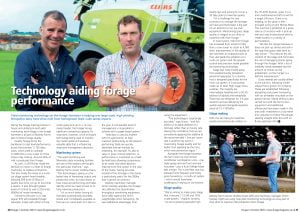 Technology aiding forage performance
Yield monitoring technology on the forage harvester is helping one large scale, high yielding Shropshire dairy herd drive milk from homegrown feed. Luke James reports.
Taking the forage making process in house and utilising in-built yield monitoring technology in the forage harvester is all part of Bubney Farms' plan to boost forage quality.
Quality forage forms the backbone to high level performance across the business' 2,150 dairy cows, which yield an average 12,900 litres a cow a year on three times a day milking. Around 30% of milk is produced from forage.
As such, in 2018 they made the decision to invest in a fleet of forage machinery to replace contractors. This also made the move to a multi-cut silage system more feasible, allowing 929 acres (376ha) of quality leys to be cut up to five times a season. It also brought greater levels of control to over 2,224 acres (900ha) of maize harvesting.
Central to the plan is a Claas Jaguar 970 self-propelled forage harvester. Fitted with either a three metre grass pick-up or a 12-row maize header, the forager brings significant harvesting capacity. As important, however, is the on-board technology being used to monitor dry matter yields and produce valuable data that is influencing important management decisions.
Monitoring system
"The yield monitoring and Telematics data recording facilities are one of the reasons we bought this particular machine," says Bubney Farms owner Andrew Evans. "This technology is giving us a far better idea of harvesting output and production costs, but also shows us how crops are performing and helps identify what we need to look at to fully maximise production.
"It's so much easier having all that data automatically recorded, stored and immediately available so that we can come back to it later in the year. A comparable level of management is impossible to achieve with a paper-based system."
Yield data is used by Andrew with his agronomist, to help maintain productivity, as the poorest performing fields are quickly identified and ear-marked for reseeding, for example. It's also of value in grass mixture selection, as performance is monitored on a field-by-field basis allowing comparisons to be made that allow decision making to be fine-tuned. In the case of the maize, having accurate records of the tonnage in the clamp is particularly useful for the 280ha that is grown on contract.
Bubney machinery manager Simon Hankey operates the forager. He calibrates the Quantimeter throughput monitoring equipment twice daily against the farm's weighbridge when harvesting. He sees additional advantages from using the equipment.
"The technology is surprisingly accurate," says Simon, "and this allows us to apply additive at a tonnage rather than an hourly rate. Having the confidence that we are consistently applying the additive at the recommended 1 litre per tonne rate is another key point in maximising forage quality and far better than applying by the hour, which was somewhat vague."
Alongside the forage harvester, the farm now has two mower conditioner combination units – one triple gang and one front and rear mounted – plus a Kuhn Merge Maxx belt merger. This is the fleet that has allowed more frequent and timely grass harvesting – a multi-cut system – which would have been challenging if relying on contractors.
Silage quality
"We're aiming to make grass silage that is around 11.5 ME and 16% crude protein," explains Andrew, "so we're growing specialist high quality leys and aiming to cut on a 35 day cycle to maximise quality.
"It's a challenge for any contractor to manage the acreage we have and that's been a big part of our decision to run our own equipment. Maintaining grass silage quality is integral to our drive to maximise milk from forage."
In recent years, milk from forage has increased from around 2,500 litres a cow a year to closer to 4,000 litres. Improvements in the quality of leys has been an important part of that, alongside the adoption of a multi-cut system and the greater control and precision made possible by monitoring technology.
Silage leys have moved away from predominantly tetraploid perennial ryegrasses to a mixture that is designed specifically for the multi-cut system. It is exclusively made up of Aber High Sugar Grass varieties. The majority are intermediate heading with a 50:50 balance of diploid and tetraploids. These leys are designed for 3-4 year duration and are delivering the quality required alongside seasonal yields of 15-17tDM/ha.
Silage making
With the aim being to maximise quality and achieve dry matters in the 25-30% bracket, grass is cut and conditioned and left to wilt for a target 24 hours. There is no tedding, so the grass is then grouped using a Kuhn Merge Maxx. This machine is preferred to a grass rake as it functions with a pick-up reel and uses bi-directional belts to create swaths in a variety of permutations.
"We like the merger because it does not pick up stones and soil in the way that grass rakes tend to," says Simon. "This reduces the ash content of the silage and minimises the risk of damaging stones going through the forager. With a lot of relatively newly reseeded leys the amount of stones can be problematic, so the merger is a definite improvement."
Grass reseeds are usually drilled in the autumn, following winter wheat that is grown for crimping. These are established following ploughing and power harrowing, with an air-seeder mounted on the power harrow. Maize drilling is also carried out with the farm's own equipment and additional efficiencies have been made in this area with investment in a six metre tine cultivator to follow the plough, seeding straight after this with an 8-row precision drill.
Published in The Forager Summer Edition 2020