OREGO-STIM: A NATURAL SOLUTION TO THE HEALTH AND PERFORMANCE OF LIVESTOCK
With agriculture increasingly looking to use natural based solutions to promote the health and growth of animals for meat consumption, Orego-Stim has been the answer for many. An essential oil-based product that works in the gut to support animal health and improve performance, the product has shown to help maintain a healthy immune system. It can be used in conventional and organic diets, and has long played an important role in a number of H J Lea Oakes' rations, particularly in ruminant young stock diets.
Orego-Stim is extracted from the oregano plant, a perennial herb of the mint family (grown as an annual in colder climates as it often does not survive the winter). Many strains of oregano have been developed by humans over centuries for their flavours or other characteristics. Tastes range from spicy or astringent to more complicated and sweet.
Because the essential oils from oregano plants can vary in content and concentration, the manufacturing process is key to ensure uniformity in the finished product. This is achieved by testing plants whilst still in the ground to determine the levels of the main active ingredients (thymol and carvacrol: known for their antiseptic properties) and pinpoint the best time to harvest. During the last decade work has been done to optimise the concentration of these compounds (above 85%) in the extracted oil.
Post-harvest, the extracted oil is reanalysed to check active ingredients fall within predetermined quality control limits, before being processed into a homogenous free-flowing powder – enabling even distribution of the finished product. The option exists to process further to make the product in liquid form.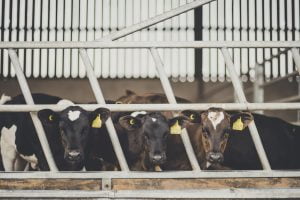 Orego-Stim can significantly add value for conventional and organic livestock enterprises
It is typical for H J Lea Oakes' customers using Orego-Stim to report improvements in animal health and performance, citing examples of enhanced appetite and fewer incidences of intestinal disorders such as diarrhoea. This is consistent with its properties to promote good gut health, thus helping genetic potential (and financial returns) to be more readily achieved.
While Orego-Stim can significantly add value for conventional livestock enterprises, it has the ability to add greater value still for organic farmers. Its organic accreditation gives farmers in that sector greater choice in selecting a feed additive where the range would otherwise be extremely restrictive. The reward is that organic farmers too can enjoy the real benefit of the product.
Orego-Stim has long been a component of the H J Lea Oakes young stock ruminant diets. Apart from the benefits mentioned, Orego-Stim is highly palatable with a pleasing flavour to encourage intake.  When formulated with highly palatable raw materials, it is the ideal feed to help develop rumen function, and give young lambs and calves the best start. Orego-Stim has been observed by those who use it as having a positive effect on pre- and post-weaned calves (a time when risk of intestinal disease is high), and it can be used without the need of a prescription and has no withdrawal period.
To sum up
On farm benefits of Orego-Stim have been reported as helping reduce incidences of diarrhoea; maximising intestinal health and nutrient uptake; improving palatability and feed intake, enhancing growth and feed conversion ratio; reducing stress levels and helping maintain a healthy immune system.
At a time when livestock farmers are under pressure to reduce the use of medicated feeds, Orego-Stim offers a credible alternative from which the organic and conventional sectors can benefit. It is an important part of the feed compounder's armoury, and when formulated as part of a balanced diet, it has the capacity to reassure farmers that they are doing something constructive to help both livestock health and the financial performance of their enterprise. It offers organic farmers a real opportunity to effectively overcome some the restrictions governing feed input. It enjoys great success on farm because those who use it do so with confidence that it will positively impact on their business.