BROOKROAD SUCCESS – A SOURCE OF PRIDE – 'BUT IT'S NOT ALL ABOUT WINNING'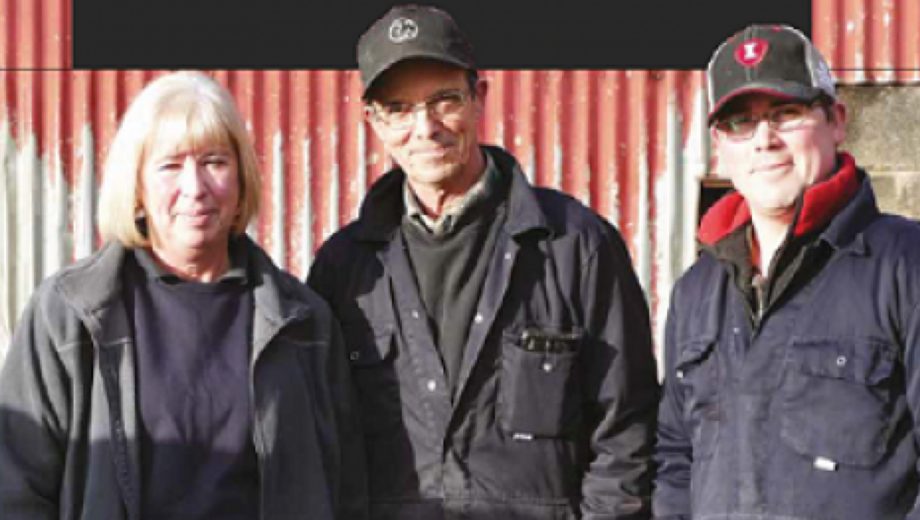 Article published by Holstein UK The Journal March 2018.
Farm Facts

Acreage: farming 200 (100 rented)
Soil type: medium loam
Parlour: 10×20 swing-over
Cheese contract: Belton Cheese
Ration: TMR and top up in the parlour
Herd Facts

Herd size: 130 plus followers
Milk yield: 9,000kg, 4.46% fat, 3.35% protein
SCC: 86
Calving interval: 390 days
Sires: Control, Applejax, Mincio, Calumet, Impression
Nestled near the Welsh/English border, lives the Bradbury team of husband Paul, wife Dee and son Dave. It is evident that the family is very passionate about its cows, which they took over 20 years ago from Paul's father, who had been at Brookroad Farm since 1950. It would be fair to say that the closed herd and farm runs on a very simple system, and it certainly isn't influenced by anything else other than what the Bradburys want. It is, however, run brilliantly by the family team members, and their efforts have certainly paid off.
Paul and Dee won the award for the most improved performance of their transition cows, and the second records their success in the ratings for best TMS fresh cow management in 2017. Both awards were made by Premier Nutrition; Paul and Dee are extremely proud and honoured to have won them. So, other than their attention to detail, what secret lies behind their success in winning these awards? "We pay a lot of attention to each stage of dry-cow management and continue to do so right through," says Paul. Keeping the cows clean, and keeping them in small groups so that they are easily managed, is key.
The groups are only calving in between a fortnight and three weeks, and with a smaller herd it is easy to do that." The 130-strong herd has a strict dry-cow management system of being split out on straw bedding, and put into groups of six or eight. They then stay in those groups until they calve. The Bradburys alter the management as they go through the dry-cow period. There have been other triumphs the team behind the herd is proud to have won.
Paul, Dee and son Dave are keen competitors of the Shropshire Herd Competition. "It's nice to be involved in the competitions and to be involved with Rob Clare (Hawksmoor) – he has such a good herd, to be anywhere near him is a great achievement," they laugh. Rob Clare has won the Shropshire Herds Competition for seven years running – but the year before his superb reign began, the Brookroad herd did beat Hawksmoor in 2010, winning the Overall Champion title. In the same year, they also had second Individual Heifer with Brookroad Juliana 50, the Verona Trophy for 250 Tonne Cows with Brookroad Juliana 18 and Juliana 22, as well as winning the Wem Trophy for Champion Small Herd. They then went on to sit in the brand new Reserve Champion spot in 2015, gaining second Junior Heifer with Brookroad Satrin (Windbrook x EX91-3E Ashacres Hopeful) who has now gone EX90, and also winning the Wem Trophy for Champion Small Herd again.
Not only have they done well with their females, but homebred Brookroad Goldstar (by Goldwyn from the Juliana family) was third in the Progeny Group category in 2010. When asked whether they have their sights set on the top Premier Pedigree Herd Competition, they say: "It would be a bonus that comes with the management, and would definitely be nice to have!" But winning isn't the be-all and end-all of this herd's ambition when it comes to competitions. It is very much about learning and seeing how to improve. "It's great to be in these competitions because if anything is going wrong, it is picked out, and it focuses on that side of the job too, which is nice," Paul says. We have already mentioned a few Julianas who are very prominent in the herd, with roughly 50% of the herd having Juliana blood. The Juliana line stems from 1986-born Lavenham Juliana 111 EX90 who was purchased during a re-stock after Foot and Mouth in 1967. By Scottish Sovereign Star, Paul recalls her fondly: "She was a fantastic cow who lived to 13-years-old. She still would have been classed as a good cow today. She was an 8-9,000 litre cow in her time, which was quite a lot back then. When she went, she still had an udder like a second calver. Oh, she was just a wonderful cow." And her legacy certainly lives on.
Four Juliana stock bulls have been used on the herd, by Goldwyn, Icefire, Bolivia and the most recent by Sid called Brookroad Jazz. Jazz has really made an impact on the herd as his daughters are beginning to calve and he has probably been the most influential sire used in recent years. "His daughters are calving in nicely. Type-wise, they have fantastic udders with a bit of strength about them," agree Paul and Dee. Being a closed herd ever since they re-stocked, the herd is bred to try and improve what they have, with a consistent breeding aim being type. "We breed for Type more than anything; we have always bred for a medium-sized cow." And when it comes to sire selection, the herd has recently started using sexed semen after being fed up with getting black and white bulls, and in order to be able to sell surplus stock without selling heifers. "Bulls have to have a decent 'plus' on production; 4-500kg – that's enough, no more than that, but also with reasonable components," says Paul. With females getting one shot of semen each before going to the beef if they don't hold – with the odd exception of two shots of conventional on their best cows – the Bradburys have started to use half proven and half genomic sires on the herd. "We have 30-40 heifer calves a year. We didn't want to take the risk with them all being genomic," explains Paul.
Last year saw an investment at Brookroad Farm, when a new shed went up to accommodate young stock, as well as another smaller shed – all loose housing. However, this isn't to accommodate more herd numbers. "All young stock used to go out on heifer rearing, but we bought them back home this past year." And there are no plans to invest in anything else in the near future anyway.
Dealing with the young stock is selfconfessed 'dogsbody', Dee. Thankfully there is a laugh at the kitchen table, as the comment came after Paul started to list Dee's roles on farm. Son Dave (30), who has been very much involved in the farm since a young age, does the mixing and feeding and the evening milking. Paul does the morning milking, and, as Paul says, Dee "props the job up." Other than a relief milker, it is very much a family affair here. But back to the herd and we should maybe mention a few other cow families. The Julianas are very much a herd favourite at Brookroad. One in particular being an Aftershock daughter, as well as a Mogul and a Silver who is due to calve in a few months' time.Others worth a mention in the herd are the Beechnuts who are doing well in the herd, and the Satrins who originated from Brian Dolby's Ringswood herd during the re-stock.
Currently the herd yields about 9,000kg which Paul is very humble about. "I know these days that is nothing, but we are in a good grass growing area and we use that as best we can throughout the summer which probably doesn't push yield." However, Paul and Dee remain ever-optimistic. "When we get years like last year's milk price, it seems to pay off…we're still here!"