AlkaForage – Customer Case Study – G L & D L Wright & Partners – Pritch Farm

Pritch Farm like many farms this year has concerns on his silage stocks lasting through to turn out. Their Pedigree herd of 196 cows is split into 2 groups had been averaging 24.5 litres per cow at 3.35% Protein and 4.3% Butterfat. Initially they had been buying in some Fodder Beet to try to slow down their silage consumption and feeding the following High Group diet (150 Cows):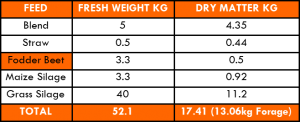 In general the cows were performing well, but the Fodder Beet was bulky and not the best value in £/kg DM. After a number of conversations about HJ Lea's Alkaline Feed options it was decided to give AlkaForage a try. Despite initial reservations Mr. Les Wright was happy to give the product a try. New Diet: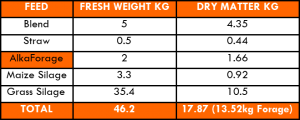 The cows responded quickly to the new diet initially with a herd rise to 26 litres per cow at 3.35% Protein and 4.12% Butterfat. The Alkaforage was able to reduce the Grass Silage Dry Matter by 0.7kg – despite increasing the total Forage DM by 0.46kg to the high group. The Milk output increase of 1.5 litres on the total herd.